Marvo is short for marvelous in Australian.  We Australians are lazy, don't like wasting syllables and like to shorten names by cutting most of it and adding an o at the end, like John-o, Mike-o, or their last name shortened with an o.
Had he emigrated to Australia like me, George Mavrothalassitis would have been a prime candidate for this name chopping, but he would not have had the critical mass of finer diners to count on that populate and visit Honolulu.  Fine dining was a black art in Australia for the longest time and unless you burned the steaks or sausages, grilled the onions to blackness too on the grill or boiled the pasta to a pulp, you weren't a cook.  Chefs didn't really exist here in the 70s.  They do now though and we are rich in great culinary creators.
I'm one of evangelists who worship at the temple of gastronomy that is Chef Mavro's at 1969 King Street, just down the block from Alan Wong's stronghold.  I confess that I am a follower of his menus and posts on Facebook as well as making a beeline there for my grand finale meal whenever I am in Honolulu.  It's painful when you have to pore over photos from afar but a pleasure to be 'in da house' when Chef's cooking.
My only regret about finding Chef Mavro only three years ago was that I hadn't done it sooner.  I'd always said I'd go but something always came up and time ran out.   Not so now. Aside from the incredible dishes he prepares that manage to retain the integrity of all of the components, he has a natural relationship with all of his customers, making the rounds nightly and entertaining them as well as making them feel they culinary cousins rather than simply clientele.
His wife and partner Donna Jung (on right with Charlene Kauhane in this Two PRs in a Pod shot) is the same, and she is in her element running front of house as she is a renowned PR in town and on the islands.   Donna's the one who graciously invites and insists that I come to end my Island Idyll at their place and she makes me feel at home like a sister when I come.  I joke with her that Chef Mavro is the only restaurant in Honolulu that I feel obligated to wear long pants to dine.
The sommelier, Doug Johnson, is George's Bishop of oenology choosing and explaining the intricacies of his wines as he serves without any wine snobbery.   He's a breath of fresh air as you enter and get settled.   He immediately put me at ease last night with the house drink of sparkling wine, elderflower syrup and a tangy lemon peel–though I think he left one ingredient out.  It was divine and I so wanted another one, but knew I was doing a degustation menu matched with wines.
George is what you'd call the chefs' chef.  My mate Tetsuya made it a point to eat at Chef Mavro his last night in town and he raved about it.  He was in awe of the flavours and presentation as well as the ambience and matching wines.  Tets is a tough customer being our national treasure of a chef but this experience floored him as it does me.
George has the credentials; a James Beard award which is the Oscars of chefs, AAA Five Diamond award for six years running, Gayot Three Toques and one of the Top 40 restaurants n America as well as Wine Spectator recogising him as one of the 11 most important French chefs working in America. Oh, and he was one of the 12 founders of Hawaiian Regional Cuisine.  Yet he is disarmingly humble, as enthusiastic as a kid with a chemistry set as he sets himself to the creation of new formulas in the art of fine food.
But it's what's on the plate that counts and here's a recap of what I had with the wine matches
Amuse Bouche was chilled kabocha pumpkin curry soup with a bacon/coconut mousse and cocao nibs.
First Course  abalone – tarama
confit big island abalone, lime juice, hanapepe salt, mint cucumber tzatziki style almond milk greek caviar mousse, house pita bread
domaine hippolyte reverdy, 2011 sancerre
ahi – aleppo pepper
spicy big eye ahi, ogo, sea urchin-aleppo pepper aioli
steamed basmati rice, shoyu powder
shirakabe gura-sho chiku bai, mio sparkling sake, nada japan
mushroom – black garlic
maitake mushroom, hamakua alii & hon shimeji, sumida farm watercress salad & essence artichoke & salsify shavings, korean black garlic, confit cherry tomatoes cilantro, sesame artichoke purée
jermann, 2011 pinot grigio, venezia giula 
catch – raïto 
seared day boat catchof onaga, braised radicchio in burgundy wine
sautéed baby spinach, chicharrón, provençale raïto sauce
domaine de terrebrune, 2012 rosé, bandol
lobster – lemongrass 
indochine-style poached keahole lobster, long rice, kurobuta pork kau yuk, kaffir lime, lemongrass, tamarind, green papaya, chervil, crustacean essence
cristom, 2011 viognier, willamette valley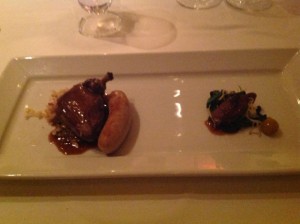 squab – jasmine tea 
breast in papillote with savoy cabbage & chipolata, jasmine tea squab jus
thigh on dandelion greens, poha berry salad
chateau des jaques, 2010 moulin-a-vent "la roche"
lamb – tapenade 
cépe dusted niman ranch lamb loin, eggplant caviar in brick, sugar snap peas
green & black olive tapenade, sarriette lamb jus
e. guigal, 2009 crozes-hermitage
wagyu – chimichurri 

100% wagyu beef medallions, pinot noir essence, braised short rib chimichurri
parsnip purée, pickled baby beet salad

domaine les pallieres, 2009 gigondas "les racines"
And for dessert, no sweets, just a crucnhy watermelon glee that was divine.
I was lucky at the end of the meal to meet up with a female travel writer from New Zealand who had been interviewing George and having many of the same items.  We both marveled at what we'd just been through and with only room left for coffee and a cognac, I drove her home to her hotel and me to mine.
It's taken a few days to recover from this gastronomic feast as well as the ten hour plane ride home and the six hour drive, but I've had a lot of memories from this special meal, made even better by having to retrieve and post the pics.